Why Gastric Banding (Lap-Band Surgery) is the Fastest, Safest and Reversible of All Gastric Procedure Options.
We offer Adjustable Gastric Banding as a different surgery option, commonly known as Lap-Band Surgery. After Lap-Band surgery, you'll feel full faster, eat less, and lose weight. It is the least invasive of all the Bariatric Surgery Procedures and is the easiest one to make reversible. Most traditional weight loss methods are slower, based on national averages; weight loss is about forty five percent of excess body weight and is a viable option for patients. With years of experience in performing Gastric Banding (Lap-Band Surgery), the Doctors at ALO Bariatrics, have improved thousands of their Patients overall health and life's. Patients have noticed that their Diabetes was significantly reduced or even disappeared at six and twelve months from surgery. These patients are now enjoying a healthy way of life.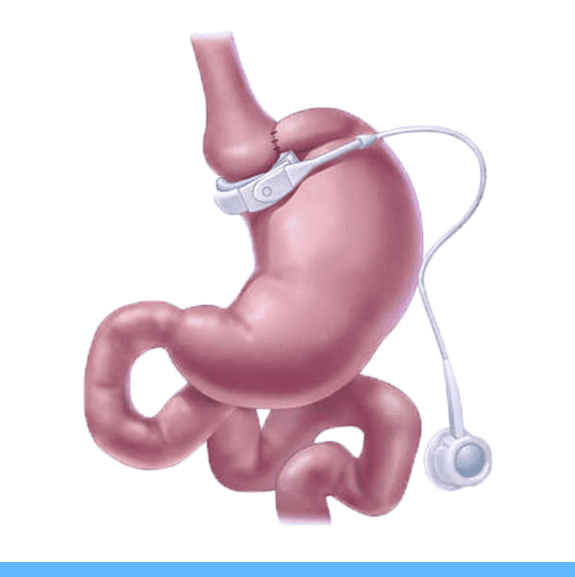 What is a Gastric Lap Band Surgery?
The Adjustable Gastric Band is a silicone ring with an inflatable bladder inside that will connect to a device that allows you to modify its internal diameter.

The Adjustable Gastric Band is placed in the upper stomach, reducing the capacity of the stomach to receive food. This feeling of fullness and satisfaction facilitates compliance with the dietary program for the patient. Thus, this is a restrictive method for the treatment of obesity.
A Lap-Band around your stomach reduces the room for food so that you feel full after eating very small amounts. If you eat too much, especially too much of certain kinds of food, you will feel nauseous or will vomit.
These unpleasant experiences will motivate you to avoid over-eating and will help you lose weight.
This restrictive procedure will help you control hunger and get you eating healthier. For the very best results, patients must adhere to small portions and more frequent follow up to maintain the band. The band is placed at the upper portion of the stomach forming a small pouch. The band is filled by accessing the port which is secured below the skin on top of the muscle mass. The pillow pouch of the band is filled slowly in order to find what is often called the "green zone." This term is used to communicate when you are not hungry, when you are satisfied between meals and is losing satisfactory weight. If you are considering the Adjustable Gastric Band, you must be comfortable with the thought of having a medical device in your body for life. The band does have an excellent safety profile, with a relatively quick recovery. The procedure is performed laparoscopically. That basically means that a tiny camera allows the surgeon to see inside your body as he or she performs the procedure. Only a few very small incisions are made in the abdomen (about 1.5-2.5 cm each). The band is placed around your stomach using long, thin instruments.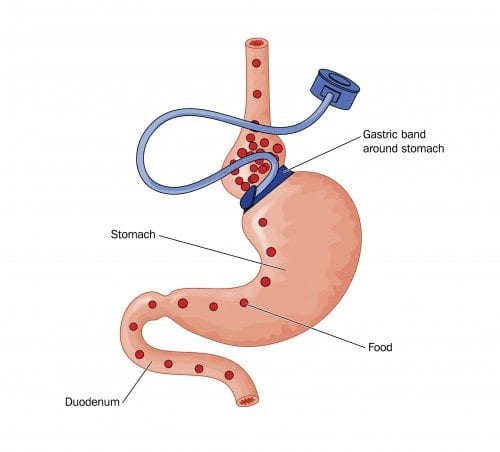 The LAP-BAND procedure is usually done on an outpatient basis and the surgery itself typically takes less than an hour. When the procedure is performed in an inpatient setting, the hospital stay is generally less than one day. In most cases, you'll get back to your life in about a week.
Adjustments to optimize the system are made through a discreet, comfortable access port that is placed just beneath the skin. The port is not visible. You may be able to feel it, but no one can see it, even after you have lost your desired weight.
Are You a Good Candidate for Lap-Band Surgery?
To qualify for Gastric Banding, you must:
Have at least one obesity related medical problem such as High Blood Pressure, Type II Diabetes, and Sleep Apnea, severe cases of Arthritis, Acid Reflux Disease, Low Back and Joint Pain.
Be over age 18
Patients with a BMI over 35 or a BMI over 30 with Metabolic Syndrome (Hypertension, diabetes, Dyslipidemia) are good candidates for gastric bypass.
Have tried to lose weight through exercise and diet modification
Be committed to making the necessary lifestyle changes
Length of Procedure: 1 hour
Average Hospital Stay: 1 – 2 nights
Recommended Time Off Work: 1 -2 weeks
Typical Weight Loss: 50 – 60% of excess weight in 2 years


If you want to lose those unhealthy extra unwanted pounds, Gastric Banding (Lap-Band Surgery) is the fastest and most effective option. Contact us today at 844.461.2831. Our friendly, knowledgeable coordinators will be happy to answer your questions and to schedule your initial consultation with Dr. Alejandro Lopez. During this visit, he will provide you with a comprehensive exam, discuss your weight loss options, and review the benefits of the procedure so that you can reach your ideal weight in 2017.
Call Our Offices Today at 844.461.2831 for a Free Weight loss Consultation.