Bariatric Revision Surgery
Revision Bariatric Surgery Guarantees That You Reach Your Desired Weight Loss Goals
Revision Bariatric Surgery – sometimes known as Revision Surgery – refers to a weight loss treatment that follows a previous weight loss surgery that did not lead to the desired level of success. From beginning to end, the journey for a patient undergoing bariatric care is full of changes. It will require persistence and discipline, but at the end it is all worth it.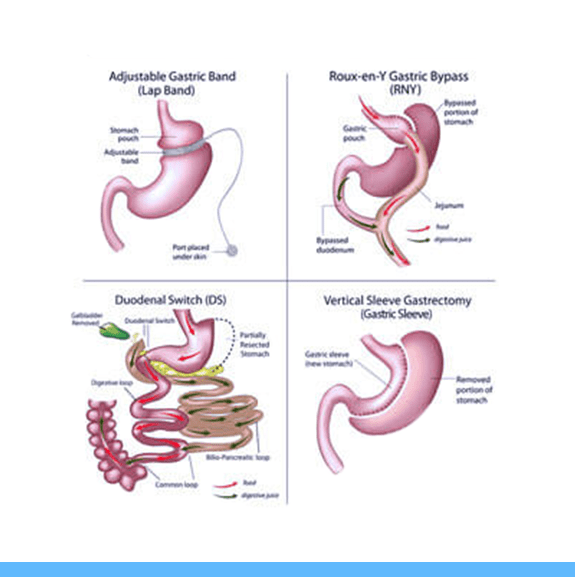 Why do we offer Revision Surgery?
Often when someone chooses to have
Bariatric Surgery
, and follows the after-surgery plan, they lose a significant amount of weight and they maintain this weight loss. However, treating obesity is similar to treating other diseases so the reality is that one treatment is not always enough. Sometimes a
Weight Loss Procedure
will not lead to as much weight loss as the surgeon and patient hoped for. In other situations, a patient will lose the weight but later regains some or all of that weight. If this has happened to you, you should not feel ashamed or consider this a personal failure. On the contrary, this is the time to contact an expert in Revision Surgery treatment.
Our experience with Revision Surgery
At ALO Bariatrics we are the foremost specialists in Revision Weight Loss Surgery. Our program helps patients from different Bariatric Surgery practices from all over the world. Because of our extensive experience in caring for these patients who have regained weight, we have carefully crafted a pre-operative and post-operative program that works to ensure long-term success. Our comprehensive program is the difference between learning to live with a failed treatment, and finding ultimate success in a different procedure and aftercare program.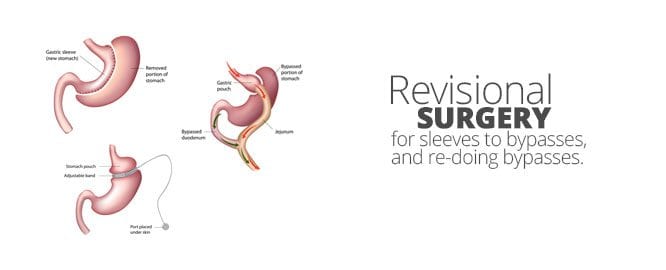 Are You a Good Candidate for Revision Bariatric Surgery?
To qualify for Revisions, you must:
Be over age 18
Patients with a BMI over 35 or a BMI over 30 with Metabolic Syndrome (Hypertension, Diabetes, Dyslipidemia) are good candidates for Gastric bypass.
Have tried to lose weight through exercise and diet modification
Be committed to making the necessary lifestyle changes

No matter what bariatric procedure you tried the first time, or what surgeon you worked with, we are happy to talk with you and help you understand your options for revisional treatment. Sometimes a weight loss surgery fails. In other cases it was not the best treatment for the patient and sometimes we will never know why the treatment did not work. Whatever the case, it is perfectly reasonable for anyone who tried one treatment without success, to have the chance to try a different obesity treatment. Every case is different, so we'll work with you to evaluate your medical history, reasons for weight regain, lifestyle, and treatment preference.
If you have regained weight after bariatric surgery, please get in touch with us and hear about your options for finding the weight loss, health, and energy you're looking for.
Now, we will discuss each of these factors affecting your potential Revisional Bariatric Surgery individually. The type of Bariatric Surgery initially performed is very important when considering a Gastric Bypass Revision because some types of surgery have been known to fail or have less long-term success. Obtaining an operative report for your surgery is very helpful. However, if you cannot provide an operative report, we can usually determine the type of surgery simply by knowing when and where it was performed.
If you had Gastric Banding, they may never feel "satisfied" with small meals. Commonly, Gastric Banding does not give patients the same feedback of satiety that the Gastric Bypass provides. In such cases, a Gastric Bypass Revision may benefit the patient. However, taking down the scar around the band can be technically difficult.
If you had a Vertical Banded Gastroplasty (VBG)/ stomach stapling, they may have initially lost weight only to lose their feeling of restriction and regain the weight. Several technical failures arise with this type of surgery over time. It is appropriate to consider Gastric Bypass Revision if one of these failures has occurred.
Remember that Gastric Bypass Revision operations are more technically challenging and carry a higher complication risk. We have very experienced Bariatric Surgeons that perform Revision Bariatric Surgery procedures every day. Not everyone who regains weight or fails to lose as much weight as they would have liked are candidates for Revision Bariatric Surgery. Because morbid obesity can be a multi-factorial disease, it will take a multi-disciplined approach to treat our patients that have regained or failed to lose weight.
Successful Bariatric Surgery starts with the operation. Some operations have been done much longer and have been proven to be more durable over time. Gastric bypass surgery is one such operation. Postoperative instruction and support is also very important. Snacking behavior, poor water intake, lack of exercise, and poor supplementation intake can all lead to poor outcomes.
When you are being evaluated for a Gastric Bypass Revision in our program, a consultation with the surgeon is scheduled. At that time all tests are reviewed as well as the operative report, if provided. Our surgeon then assesses the risks and potential benefits of Gastric Bypass Revision Surgery for you the patient. If surgery is indicated and the potential risks are understood our knowledge and experience with Revision Bariatric Surgery will help you achieve your goal. We have performed more minimally invasive and Endoscopic Revision procedures than most Bariatric Surgeons in the US.
If you are in need of, or think you maybe in need of a Revision with your previous surgery contact us today at 844.461.2831. Our friendly, knowledgeable coordinators will be happy to answer your questions and to schedule your initial consultation with Dr. Alejandro Lopez. During this visit, he will provide you with a comprehensive exam, discuss your weight loss options, and review the benefits of the procedure so that you can reach your ideal weight in 2017.
Call Our Offices Today at 844.461.2831 for a Free Weight loss Consultation.